To set up Photoplay, Brownlow and Gill were joined by Patrick Stanbury. Patrick's background had been in business – he trained as an accountant and had been financial director of a number of publishing companies – but from an early age his heart had been in film. As a child fascinated by history, he had been captivated by his parents' memories of their childhood filmgoing, and absorbed as much information as was then accessible on the subject. He also became a collector, and was involved in presenting films in the UK. Inevitably, this all led him to Kevin Brownlow. The two became friends in early 1975, and Patrick joined Kevin on several research trips (on one of which they found an original print of The Cat and the Canary which, nineteen years later would become a Photoplay restoration). As well as his responsibility for Photoplay's business affairs, Stanbury would also serve as Associate Producer on all Photoplay's early work.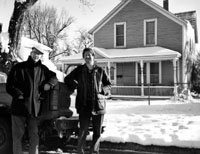 Kevin Brownlow and Patrick Stanbury
outside Lon Chaney's house
Colorado Springs - 2000
Photoplay began operating at the beginning of 1990, and moved to their present offices shortly thereafter. Amongst the first productions were DW Griffith: Father of Film, and a series of newly scored Harold Lloyd features. Thames Television's franchise was not renewed, and with that died the Thames Silents. Fortunately, Channel Four stepped into the breach, and directly commissioned the Channel 4 Silents series, which meant they would back the live performances as well as the broadcast versions. The first of this new series was The Four Horsemen of the Apocalypse, premiered in 1992.
After DW Griffith came the 6-part series Cinema Europe: The Other Hollywood, produced to mark the centenary of cinema in 1995.
David Gill died in 1997. Since then, Brownlow and Stanbury have continued programme making together, with Stanbury assuming responsibility for producing, as well as taking over Gill's role in charge of video and music preparation for the feature restorations. Strong links have been forged with Turner Classic Movies and Warner Home Video in the US, resulting in such programmes as Lon Chaney: A Thousand Faces (2000) and Cecil B DeMille: American Epic (2003). Also during this time, Photoplay developed its activity distributing the library of 'Live Cinema' titles it had built up from the Thames and Channel 4 Silents series, providing them for screenings around the world.
Documentary production, restoration and distribution remain Photoplay's core activities, as you can see from visiting the rest of our site.